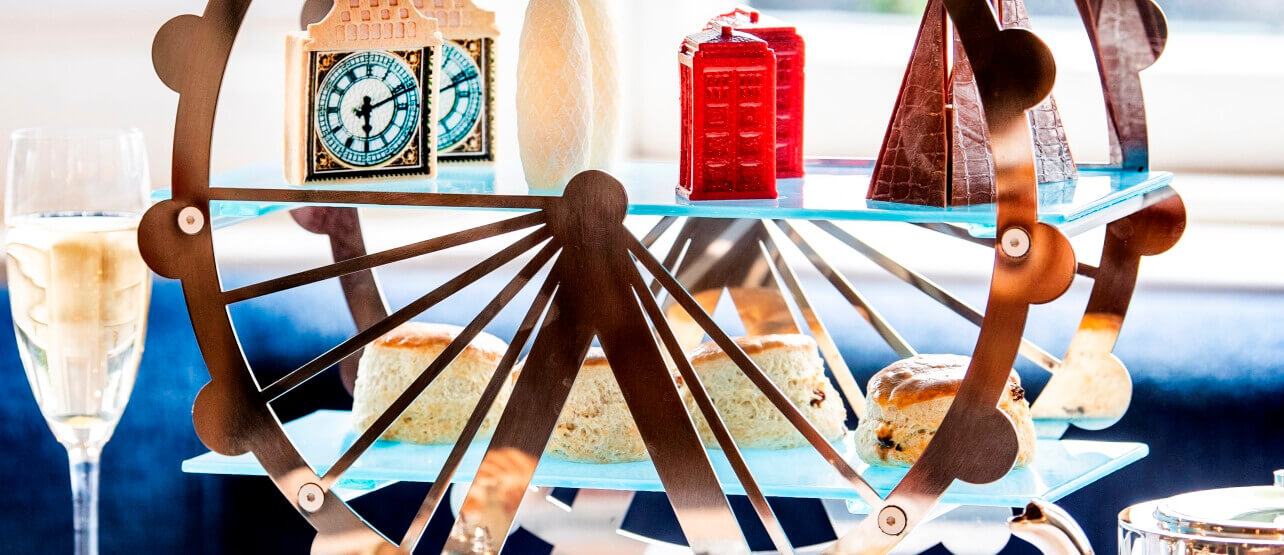 Now that the sell-out Beauty and the Beast inspired 'Tale as Old as Time' Afternoon Tea at the Kensington Hotel has finished, the Kensington Hotel have introduced their brand-new menu inspired by London's iconic landmarks - and the AfternoonTea.co.uk team were excited to try it out!
Suitably located in an exclusive area of the Capital in South Kensington, this stunning 5* boutique hotel is only a short stroll from famous sights such as The Natural History and V&A Museums - making it the perfect place to indulge in an Afternoon Tea dedicated to London's iconic tourist attractions after a busy day sightseeing.
The hotels interior décor is beautiful featuring a welcoming environment characterised by bookcases and stunning open fire places that immediately create a sense of feeling at home.
Afternoon Tea is served in the relaxed surroundings of the Drawing Rooms. The walls are painted in a light eggshell colour which is a lovely contrast to the brightly coloured furnishings.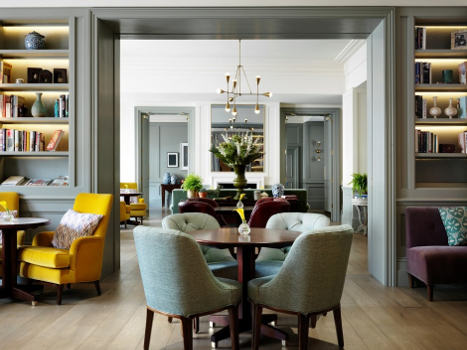 On arrival, we were warmly greeted and escorted to our corner table, surrounded by rows of books and ornaments which only added to the quaint charm of the hotel.
To begin, our waiter asked for our tea selection. All their Teas are supplied by The Rare Tea Company based in London. The tea menu ranges from a selection of black tea, green tea, white tea and herbal infusions. I opted for a quintessentially British tea, Earl Grey (along with a glass of Champagne, of course!).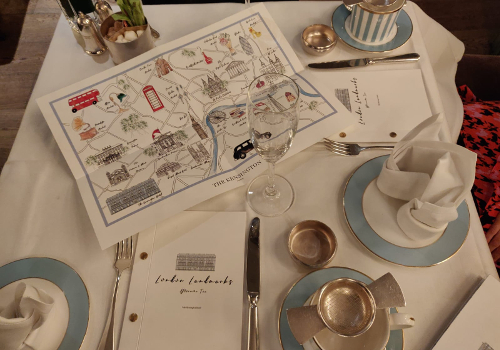 Our 'London Landmark' Afternoon Tea experience started with an array of delicious canape sized savouries. As someone with a penchant for savoury flavours, this was a lovely addition to the traditional finger sandwiches. My particular favourite was the Steak & London ale pie, a hearty snack bursting with flavour that whet the appetite and made us more eager to try the anticipated fare that was to follow.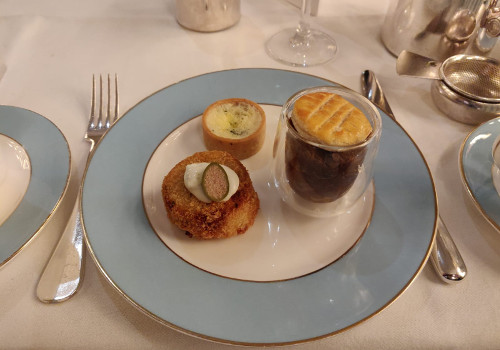 The Afternoon Tea arrived on an amazing London Eye inspired Afternoon Tea stand which made a fantastic photo opportunity! Our lovely waiter talked us through the menu and gave us a visual tour of London's most famous landmarks using the map provided on our table.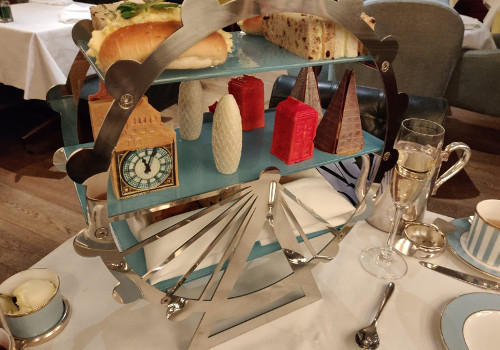 The beautifully presented sandwiches included traditional fillings such as egg & cress, marinated cucumber creme fraiche, and the classic coronation chicken (which was particularly tasty!).  All the sandwiches were freshly made and very flavoursome.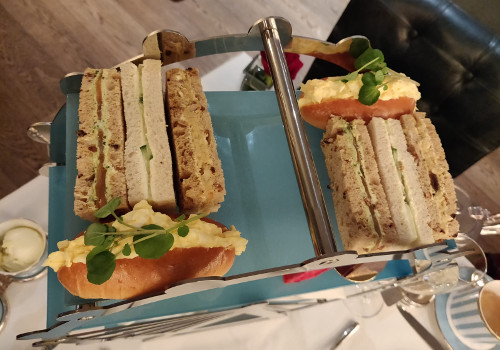 You can immediately see that the pastry team at The Kensington Hotel have worked very hard to create a selection of pastries that pay homage to the Capital's iconic buildings, with each sweet treat looking like a work of art! I couldn't believe how detailed the Big Ben lemon curd tart looked and it certainly didn't scrimp on the flavour with the pastry delivering a zesty kick that tantalised the senses. However, as a chocolate lover, my favourite had to be The Gherkin which was a delicious white and dark chocolate ganache.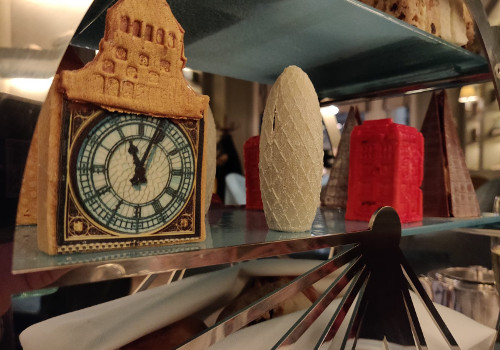 Of course, I could not fail to mention the freshly baked scones which were perfectly formed. They served plain and fruit scones alongside Heather Hills Strawberry Jam and clotted cream.
Overall, this was a truly unique Afternoon Tea experience in a friendly and relaxed atmosphere and served by wonderfully attentive and welcoming staff. If you're looking for a memorable Afternoon Tea in London, look no further than the 'London Landmarks' Afternoon Tea at The Kensington Hotel.
Gluten Free and Vegan Afternoon Tea options are also available. For more information, please click here.