Afternoon Tea Awards 2018 - Highly Commended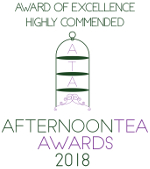 Perfectly located off Sloane Street in fashionable Knightsbridge, the Chinoiserie at Jumeriah Carlton Tower is a favourite haunt for fashionistas and shopaholics alike. With an enticing table-centre display that immediately captivates the eye, this elegant rendezvous spot is a place to see and be seen.
Come and enjoy an afternoon of decadence at the elegant Jumeirah Carlton Tower. Hand crafted by pastry chefs, the Symphony Afternoon Tea draws upon the four movements of a symphonic orchestral experience, presenting a masterpiece of flavour.
The taste performance begins with the Overture; a selection of savoury cones proposed to set the tone of your experience. Savoury Symphonies are next, including a contemporary twist on traditional afternoon tea savouries such as a Brioche bridge roll with Loch Fyne smoked salmon and duck egg mayonnaise. Following this is the sweet serenades, including a mini tiramisu with whipped coffee ganache and a Siciliian pistachio éclair with cranberry compote. As with every great Symphony, the Finale is last, and guests will finish their experience with a delicate coconut and lemongrass sorbet.
Jumeirah Carlton Tower, Knightsbridge was awarded a Highly Commended certificate at the Afternoon Tea Awards 2018 in recognition of its high quality Afternoon Tea service.