Afternoon Tea Awards 2019 - Commended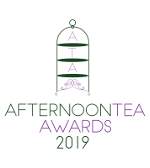 Housed in a former industrial warehouse, James Martin Manchester has already established itself as a fine-dining powerhouse and they have now expanded their menu to include a gorgeous Afternoon Tea.
The brainchild of chef and TV personality James Martin, the arched ceilings and brick details of the restaurant create an industrial-chic setting perfect for a weekend treat. Decked out in crisp white linen and ornate decor, the mood is luxury mixed with vintage.
Pamper yourself with a delectable range of savouries such as treacle roasted ham, pastrami, salmon and much more, plus sweet treats ranging from lemon posset to ginger chocolate and hazlenut mousse. The restaurant also offer homemade scones and an extensive range of teas to pair with the food; stay traditional with English Breakfast and Earl Grey or try more exotic fare such as a red berries and rose petals blend.
Next door is Manchester 235, Britain's response to Las Vegas' glamorous casinos - why not swing by for added levels of decadence? Victoria Rail Station is just around the corner too.